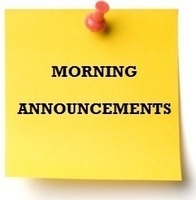 Morning Announcements 4/24
Zach Douglas
Thursday, August 23, 2018
Morning Announcements
Good Morning Gorillas! Today is Wednesday, April 24th
Please rise and join me in the PLEDGE OF ALLEGIANCE
Here are today's announcements,
Attention Students--If you would like your wall of fame posters please grab them off the wall this week. Mr. Douglas' class will take the others down next week and dispose of them. Thanks!

If you are interested in being in FCCLA next year, please see Mrs. Vinson. If you are interested in being an officer, applications are due this Friday.

Students, this is a reminder that there is no eating in the classrooms. All students will be in the lunch room unless you have a card.

Teacher's please remember to enter your lunch count and take your attendance each period.
Lunch today is:
Option 1 - Chicken Fried Steak (Beef Fritter)
Option 2 - Hamburger Steak
Option 3 - Salad Bar
2nd Breakfast is: Strawberry French Toast
Option 2 - Cereal or Oatmeal
It's a GREAT day to be a Gorilla!!!