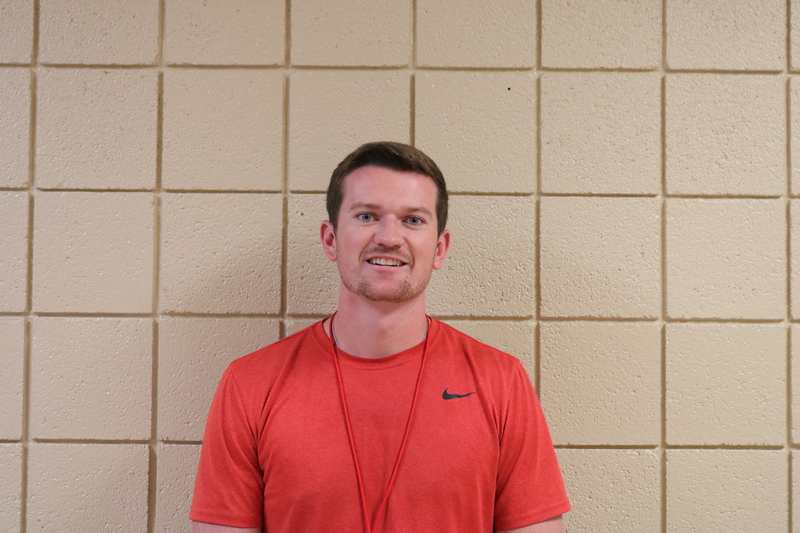 Kyler Stein is new to Solomon, but it has taken him no time to begin building relationships with the students.
"I've gotten familiar with athletes from weights and sports," says Stein.
One of Stein's goals at Solomon is to foster positive relationships between the various sports teams. He has even started a pep club, "just to support any sport," he says.
"If we have any Gorillas out there, then we should be out there supporting them," Stein notes.
One of Stein's first accomplishments with the pep club can be seen during Solomon High School's home volleyball games. The student section has grown exponentially, they are very engaged, and their voices can be heard for miles shouting the cheers Stein taught them. Stein brings positivity to Solomon's school culture and he is not unfamiliar with the small town dynamic.
Stein grew up in a small town similar to Solomon called Spearville. He played football, basketball, and baseball for all four years, and ran track for his senior year. During his high school career, he went to state twice--once in football and once in basketball. After high school, he went to Kansas State University and majored in physical education from August of 2017 until May of 2021.
Stein had several positive role models who influenced his choice of major and eventual career path.
"I had a teacher who was also my football coach, that had a great impact on me and my friends," Stein says of his reason for wanting to be a teacher. "We were very close and he made me want to have the same impact on other kids through athletics, school, and the relationships I build."
His mother also had an influence on him wanting to teach.
"I always told her I wouldn't become a teacher," he joked, but he looked up to his Mom, and admired the way the kids looked up to her back in Spearville.
Stein didn't plan on coming here--in fact, he wanted to teach elementary P.E. He signed up for mock job interviews offered through K-State just for good practice, and Solomon reached out for an opportunity. They mentioned that Solomon had coaching positions available and that made him become more interested in the job. Stein wanted to go back to a small town and to be around Manhattan for a couple more years. Solomon ended up becoming the place he chose, and he doesn't regret his decision.
"We have great kids and it's been fun so far," Stein adds.
Not only did the students accept Stein quickly, so did faculty and staff.
"Coach Stein has been a great addition to the Solomon USD 393 staff. He brings a new energy to the building that is refreshing and he is wise beyond his years," said Zach Douglas, business teacher and assistant boys' basketball coach.
Stein is looking forward to a successful school year and has several qualifiers for what will define success for himself.
"[I will be successful] by building relationships and seeing how the kids come up to me and react to me," he said.
Stein wants kids to "have fun" and "enjoy" his classes.
Not only does Stein want students to delight in his classes, but he also wants to impact students' lives.
The impact of Stein's high school coach is something he notes respectfully.
His coach always told him, "a locker room can be one of the most inspirational and impacting times in a kid's life," and he wants to continue that here at Solomon.
"All the lessons you can learn through sports can create you to become a better person," Stein adds.
Teaching, whether it be on the court, classroom, or playing field is clearly in Stein's blood and he is excited to be bringing his positive energy to the community.
Stein has been impressed with Solomon and is quick to say that he loves "how open everyone is and how everyone gets along well [here]."
Photography by Taytum Anderson
Edited by Xavian Gore, Caden Acosta, Luka Hayes, and Nicole Price.