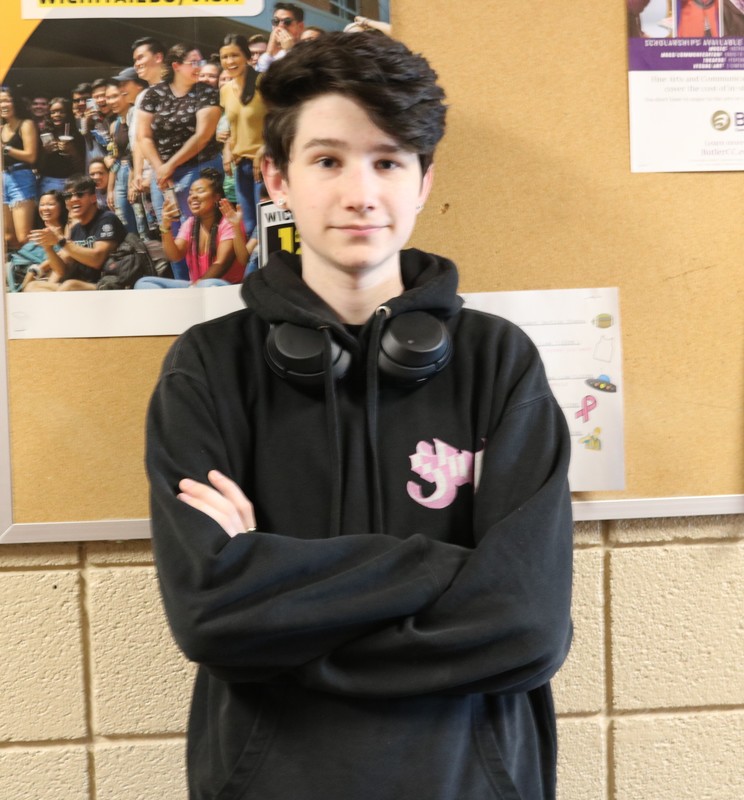 Written by Nicole Price
When you think of Solomon High school junior, Colin Price, you think of his sassy remarks, his love for music, and his funny jokes. You don't think about autism. You don't think about anxiety. You don't think about struggle.
"When I was 14, I started having anxiety about going to school and I stopped going," said Colin. "I was diagnosed with autism at about 15, it's always been difficult expressing my emotions to my family. I wanted to explain to them how I felt but I couldn't fully understand them myself, all I knew was that I couldn't go to school."
Colin's inability to articulate his problems led to even his own family members doubting his condition.
"Honestly, I thought he was faking," said Brian Price, Colin's father. "I felt bad for him."
Brian did find relief when Colin received his diagnosis, because then he knew his son "wasn't lying or kidding," and he was relieved that it wasn't a more serious problem.
Following his diagnosis, it became apparent to the whole family that Colin was truly battling anxiety connected to his diagnosis of autism.
Bridget Price, Colin's mother, noticed from an early age that he would often hide and be very quiet when presented with large social environments.
"When he was about seven years old, he had lots of anxiety," said Bridget Price. "He didn't like getting dirty or touching sticky things. When we went out to eat he would get cold and sleepy and that was his way of shutting down. He really loved routines. It really didn't start to show until puberty. I just thought he was shy, he hit all the normal milestones at the normal rate, but [Nicole] couldn't sit still but he could sit still for hours."
Colin's monk-like ability to focus is actually related to his diagnosis, and that ability to concentrate helps him to research, understand, and analyze his world.
"I think I am more conscious about things I notice in my life, when I notice something about myself it's actually a symptom of autism," Colin explains. "It helped me make sense of my feelings and my life."
Certain things are troubling for Colin to process and create sensory overload, regardless of how much he has researched and analyzed his world.
The list includes things like "no show socks, short sleeves, shorts, loose shoes, strong smells, loud noises or surroundings, lots of people, and sometimes water," he says. "I haven't had a complete sensory overload in about a year though."
Today, Colin manages his anxiety and stress with medication and music.
"I used to attend counseling but I decided to stop and just do things I like as a coping method," Colin says. "My current hyperfocus is music, just playing my instruments, bass, flute and sometimes trombone. I listen to music, I collect vinyls. I am listening to [the bands] King Gizzard and the Lizard Wizard, Ghost, Black Sabbath, Alice in Chains, Rage against the Machine, Slayer, Nirvana, Iron Maiden, and way too many others to mention. I listen to music because it's a way of stemming [managing stimulation.]"
Colin moves around a lot when listening to music because "it's cool," and he likes music that is "dark and heavy."
However, Colin does have some cautionary advice for listening to metal when feeling anxious.
"Do not listen to metal music when having a panic attack, it'll make it worse," he said with a slight smile on his face.
Colin loves music, but he does struggle with (and sometimes suffer from) panic attacks triggered by sensory overload that can be related to sound. These panic attacks were what was causing Colin to be unable to attend school.
"With people in my family who have ADHD they are very impulsive which is confusing, and I am more rational due to my autism and [I find them to be] very loud," Colin said with wide eyes to put emphasis on the noise they make. "Everyone who has any neuro-divergency is different and that there are more people than you think, and we are all different."
It has been a year since Colin has had any issues with his autism.
"Thanks to the people I choose to surround myself with, I haven't had any issues," says Colin. He has stopped attending counseling and has been put on the right medication. Everyone who has seen Colin now is very happy for him.
"I have watched Colin truly blossom over the years," said Mrs. Grant, Colin's long time English and social studies teacher. "He has gone from a shy, introverted, self-conscious pre-teen to a self-assured, outspoken, and sassy teenager with wry wit and scathing ability to create the perfect come-back for any comment. He's bright, interesting, and a great bass player."
Colin has grown tremendously over the past few years, but he argues that he has always been himself.
"I haven't changed since my diagnosis," he said, with a snooty look on his face, as if he was proud of himself for insulting the reporter. [Editor's note: Colin was interviewed by his twin, Nicole Price.] I think I've always been like this; I think people just didn't notice."
Photo by Nicole Price
Editing by Spencer Coup, Alana Wood, Perry Steele, and Luka Hayes