Mrs. Kirby's Class had a lot of fun on the 100th Day of School. One activity was building with 100 cups.
The 4th graders are now published authors! Before Christmas they each wrote and illustrated a page of the class book which was then sent to a student publishing company to have their books created!

Attention all JUNIORS: There will be 3 ACT study sessions lead by different High School teachers. See the flyer for dates, times, and locations!
At our last home meet, Taegan took first place and is the Bowling Gorillas top girl. Mac is our top boy; he had his high competition game tonight. Our only senior Matt had his best game in competition tonight also. Monday we bowl at Junction City , and Thursday at Washington.

Tonight's games vs. Rural Vista will be played at Hope. Varsity only tonight with girls tipping at 6:00 and boys to follow. Rural Vista allows two spectators per player to attend. If you can't attend, you can watch free at
https://www.facebook.com/rvheatathletics/

Due to icy conditions and freezing drizzle Solomon Schools will have a TWO HOUR DELAY school will start at 10am. NO Breakfast. #StaySafeGorillas!

A train is delaying the start of the JV game. JV will tip in 10 minutes. They will only play 2 quarters followed by a full varsity boys game.

Tonight's games vs. Peabody is only boys. JV will start at 5:30 pm with varsity to follow! Catch the livestream on our YouTube channel!
Using what they've learned about energy, 4th grade was able to create chain reaction machines this week!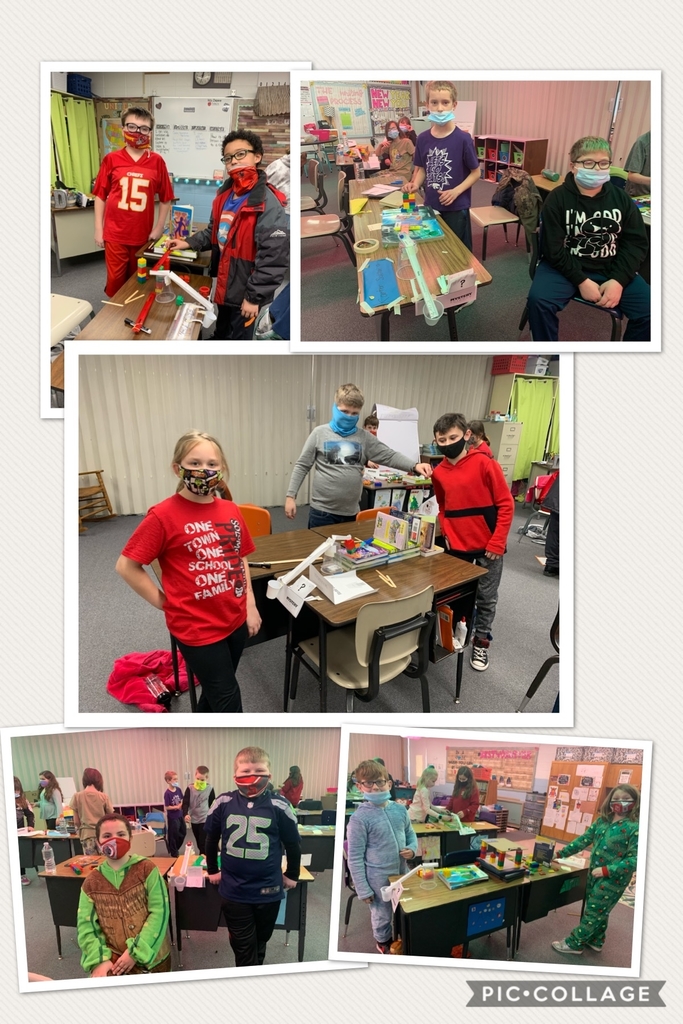 Five of the Solomon Bowling team went to Junction City. Taegan was top girl, and Logan was the top boy. We host Junction City and Washington on Tuesday, February 9. Happy Bowling.

Third grade made our Super Bowl LV predictions/wishes. Mrs. Cross's class

Third grade did a little something different in spelling today-"Michaelangelo Spelling" .

Applying our skills with similar figures to measure the length of a shadow in order to find the heights of objects that are too big to measure! #mathiseverywhere!
Mrs. Kirby's class checking out our shadows on Groundhogs's Day!

Ms. Romeiser's class celebrated Ground Hog's Day by tracing one student's shadow 8 different times during the day. It sure did change!
Second grade students have spent the month of January learning about Kansas. We looked at the Then and Now of life for people during these times and what it would be like to live then. Each group member first made their own sketch, next worked together to plan what their project would look like, and finally designed their Then and Now project. Each team did a fantastic job creating their diorama. Mrs. Moon's class

Congrats to our HS Scholars Team placing 2nd at regionals. Great work team! #GorillaProud
The Gorilla Bowling team traveled to Hutchinson in the rain. Taegan took 5th place among the girls from 9 schools, and is naturally our top girl. Logan was the Gorillas top boy. This Thursday, we travel to Junction city.


Due to bandwidth issues at Rural Vista there will be no live stream of the Middle School Girls games. Sorry for the inconvenience.